El Clasico is arguably the biggest game in club football each year, but just how does it rate against other big matches? Plus, how do Barcelona and Real Madrid compare with each other, as well as with other clubs?

When El Clasico is on, the world really is watching. The most recent Barcelona-Real Madrid clash, in April 2016, aired in more than 90 countries around the world.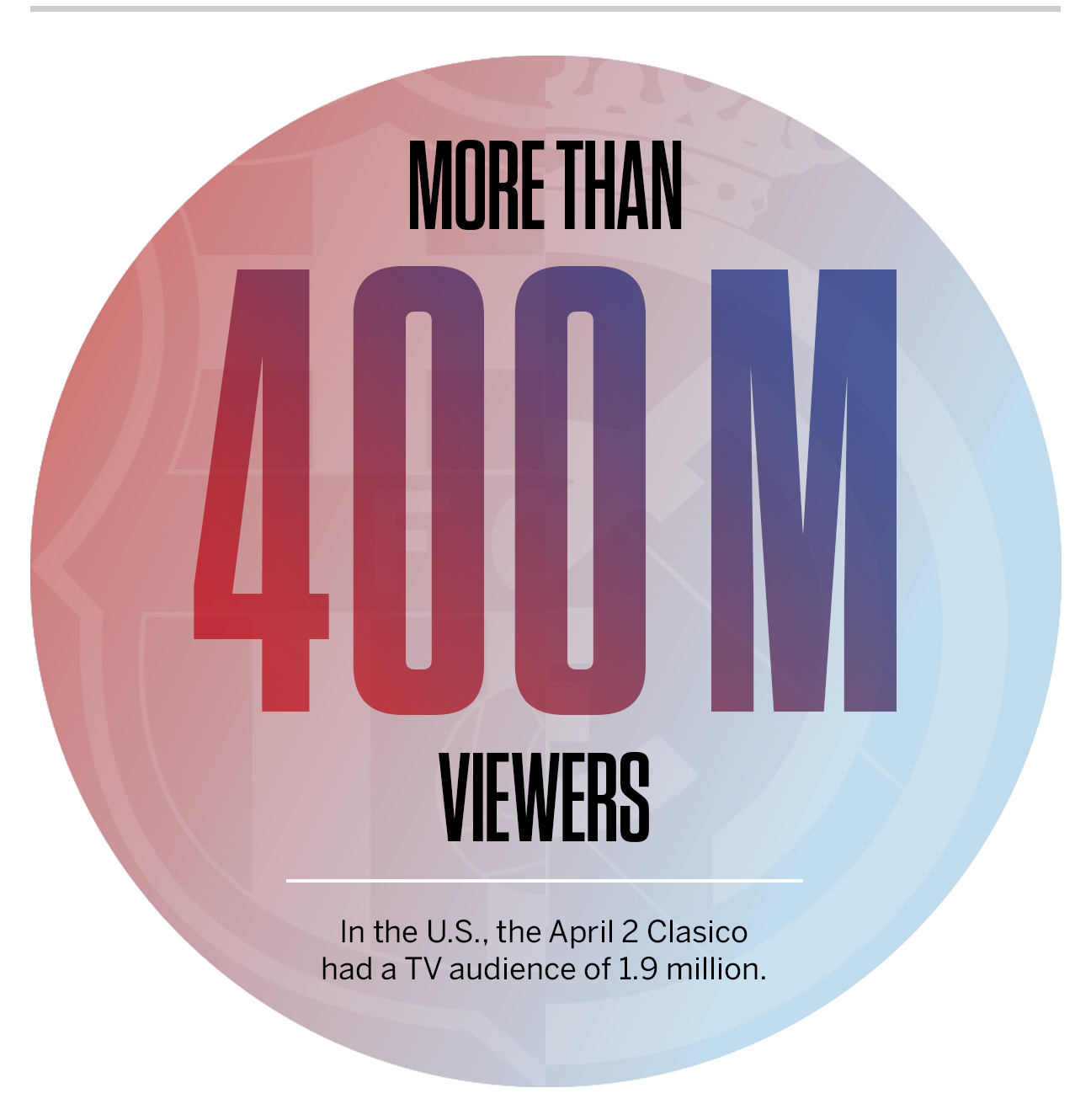 Here's a sense of how El Clasico compares with the biggest events in other sports. While more people watch when Barcelona and Real Madrid meet, it's more expensive to go to the NFL's biggest game, though the resale market has a major effect on ticket prices for both events. (Super Bowl 50 global viewing figures were unavailable at the time of publication.)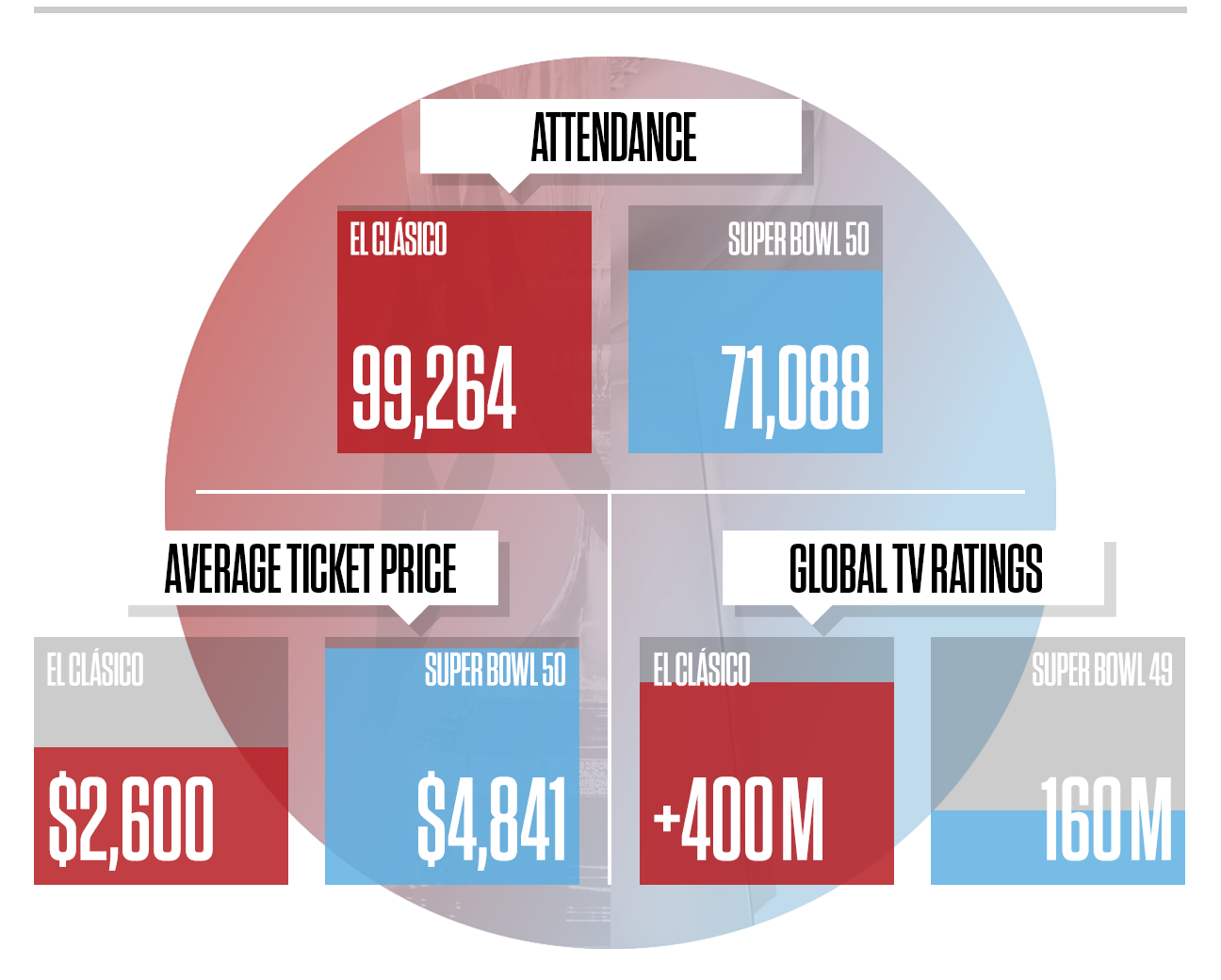 When it comes to supporters inside the stadium, El Clasico is unparalleled. Last season, more than 30,000 more fans attended Barcelona's games with Real Madrid than any other game between major football rivals. The first meeting, at Madrid's Bernabeu had an attendance of 81,044 while the second, at Barcelona's Camp Nou, drew a crowd of 99,264.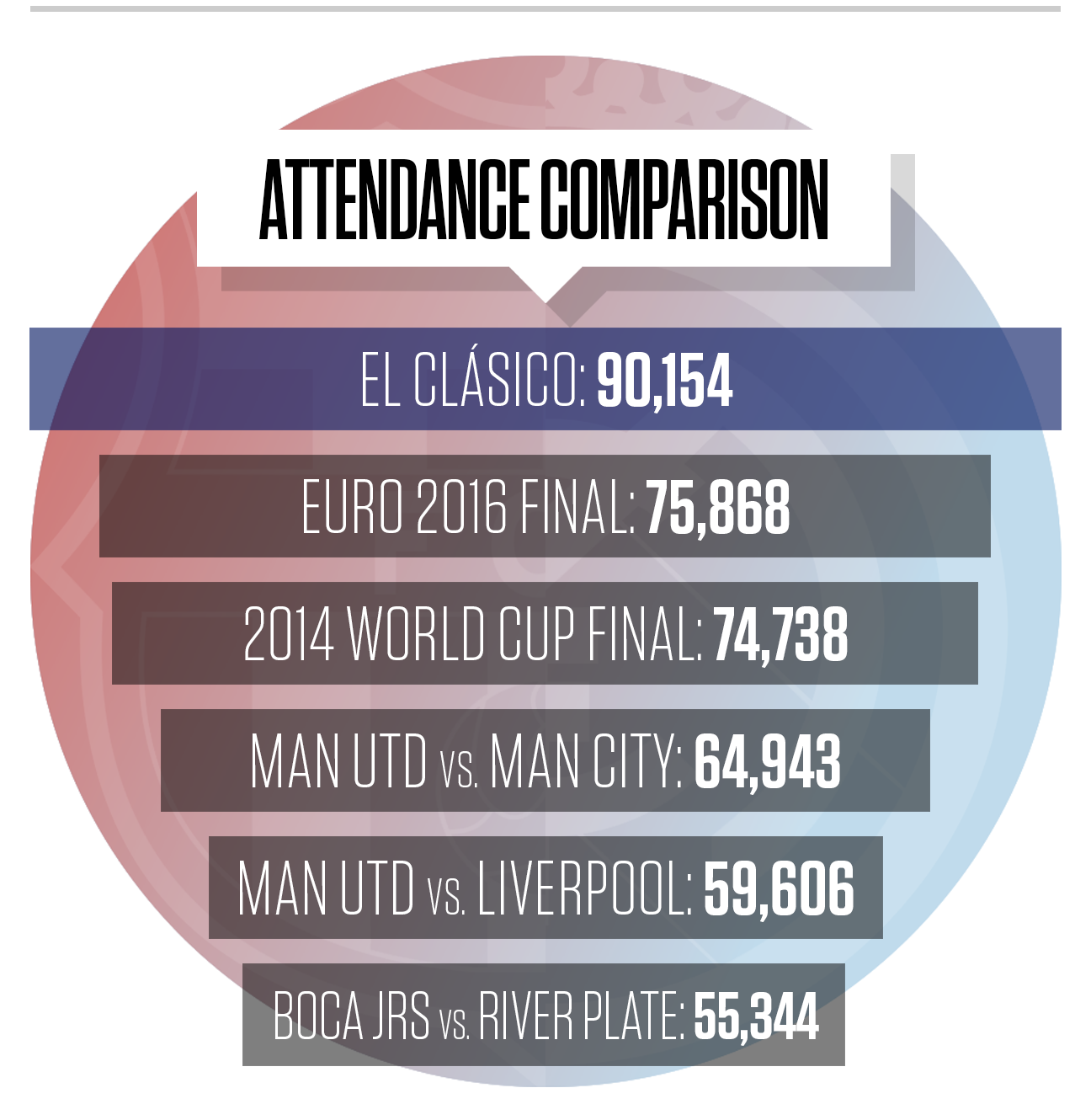 According to Forbes, these are two of the top three most valuable sports clubs in the world. Only the Dallas Cowboys are ahead of them.  After Barcelona and Madrid, the next club on the list is Manchester United at $3.3 billion.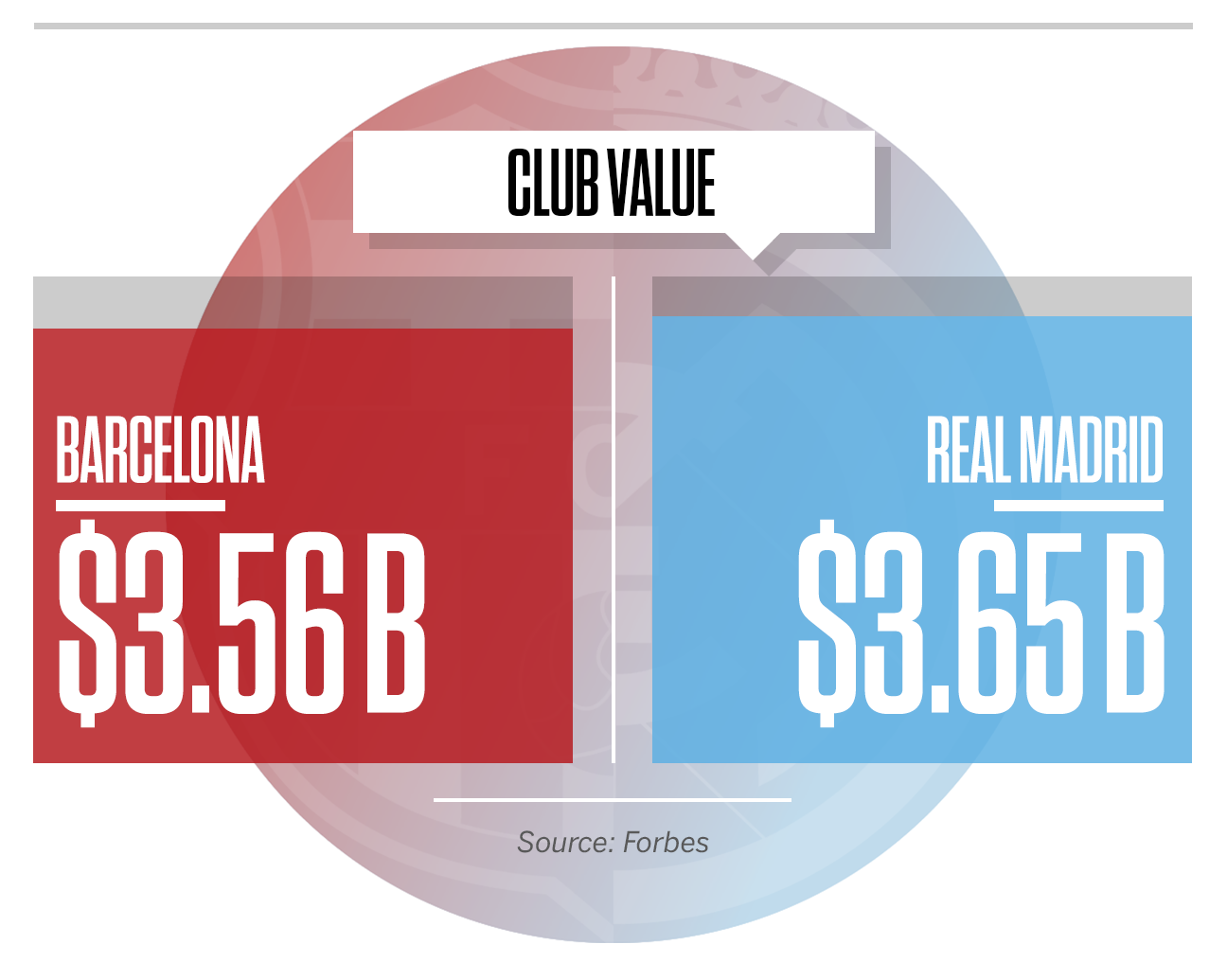 Neither club is averse to spending big money to get the players they want. In fact, between them, they have broken the world transfer record eight times. The two most expensive players in the current Clasico squads are Neymar and Gareth Bale, although the latter will miss Saturday's game through injury.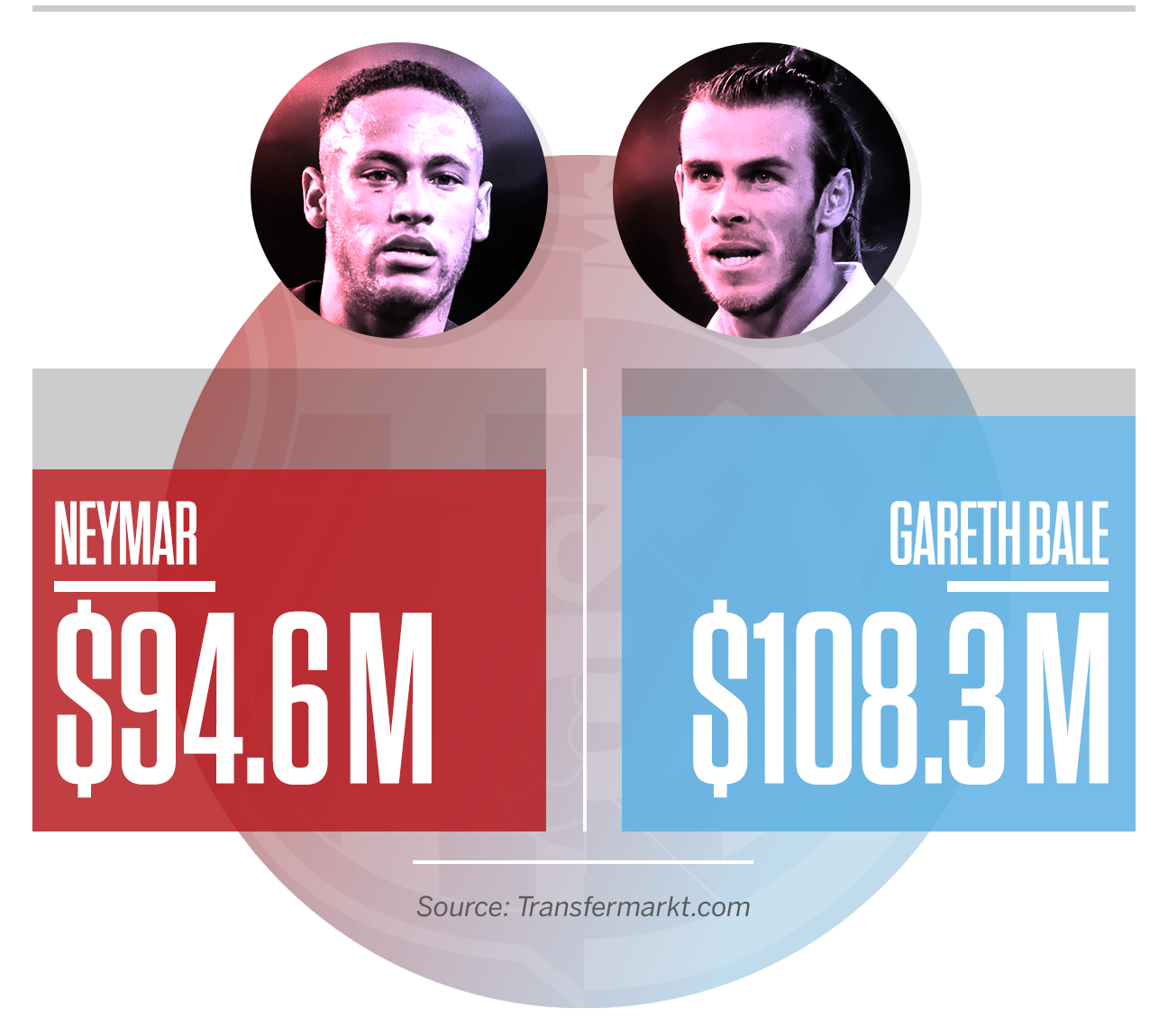 Playing for these clubs is lucrative. According to a Sporting Intelligence survey covering all sports, Barcelona are fifth-placed in terms of total annual salaries paid, while Madrid are ninth. Only Manchester United place above them among football clubs; the Cleveland Cavaliers of the NBA are the top-paying team. Their best-paid player is LeBron James, who earns almost $31m per year. Compare that to Lionel Messi and Cristiano Ronaldo, both of whom earn almost $24 million, or $450,000 per week.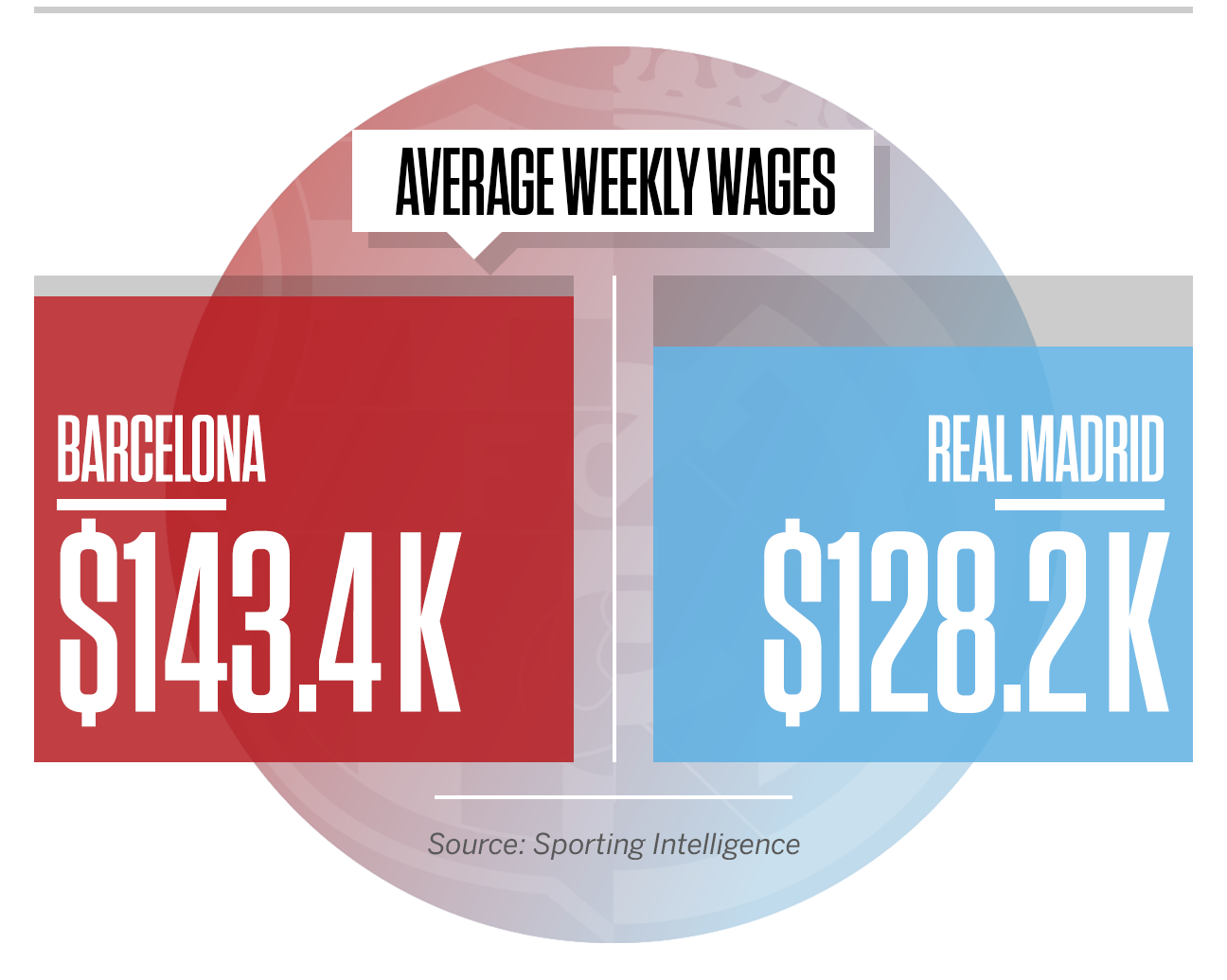 Measuring just how many fans clubs have around the world can be tricky but, based on a recent survey of shirt sales, Barcelona and Real Madrid trail only Manchester United in terms of global popularity.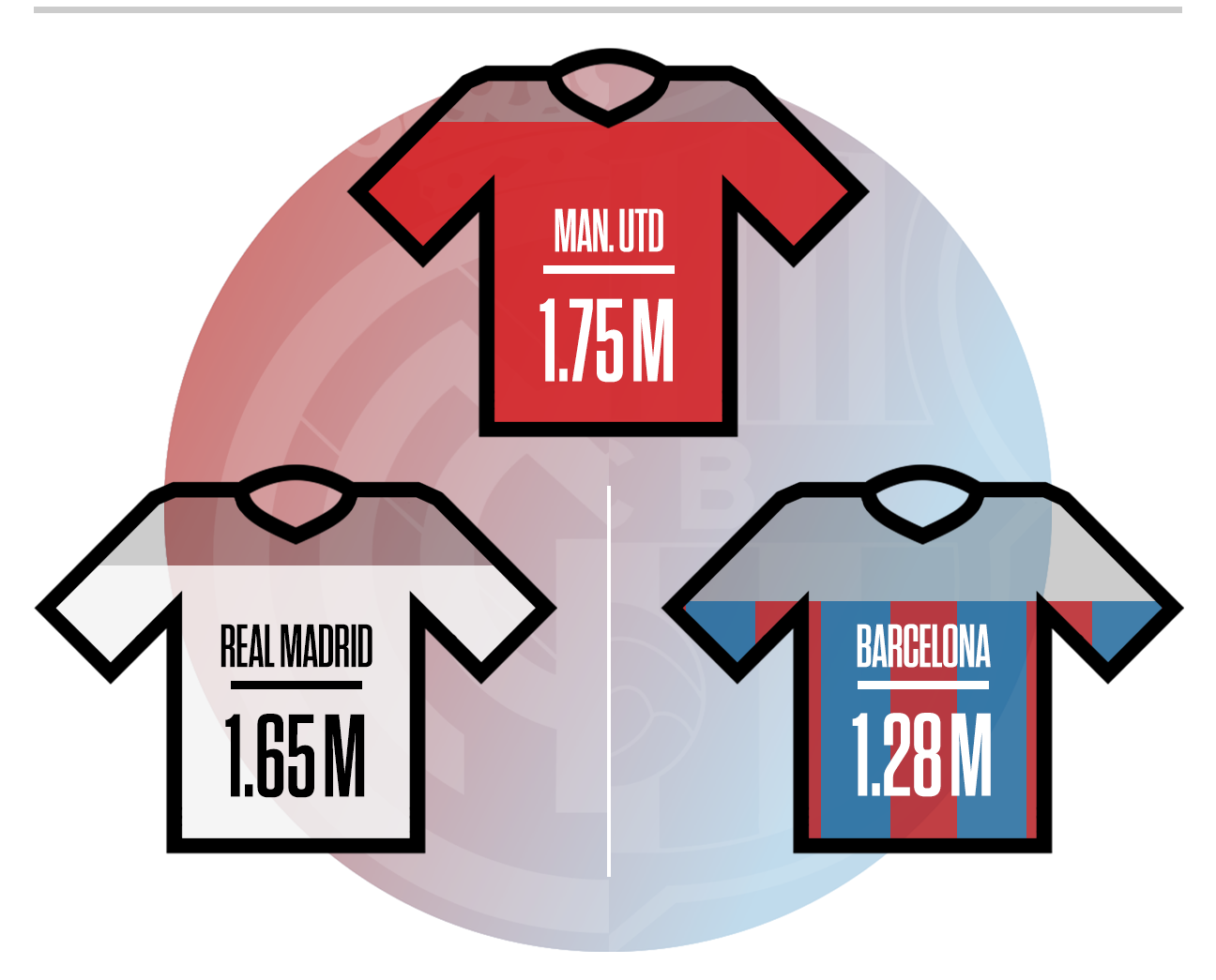 These two lead the way when it comes to biggest followings on social media and also boast some of the most popular players. Cristiano Ronaldo has almost 250 million followers across Facebook, Twitter and Instagram. Neymar has almost 148 million. (Lionel Messi narrowly trails his teammate, despite not having a Twitter account.)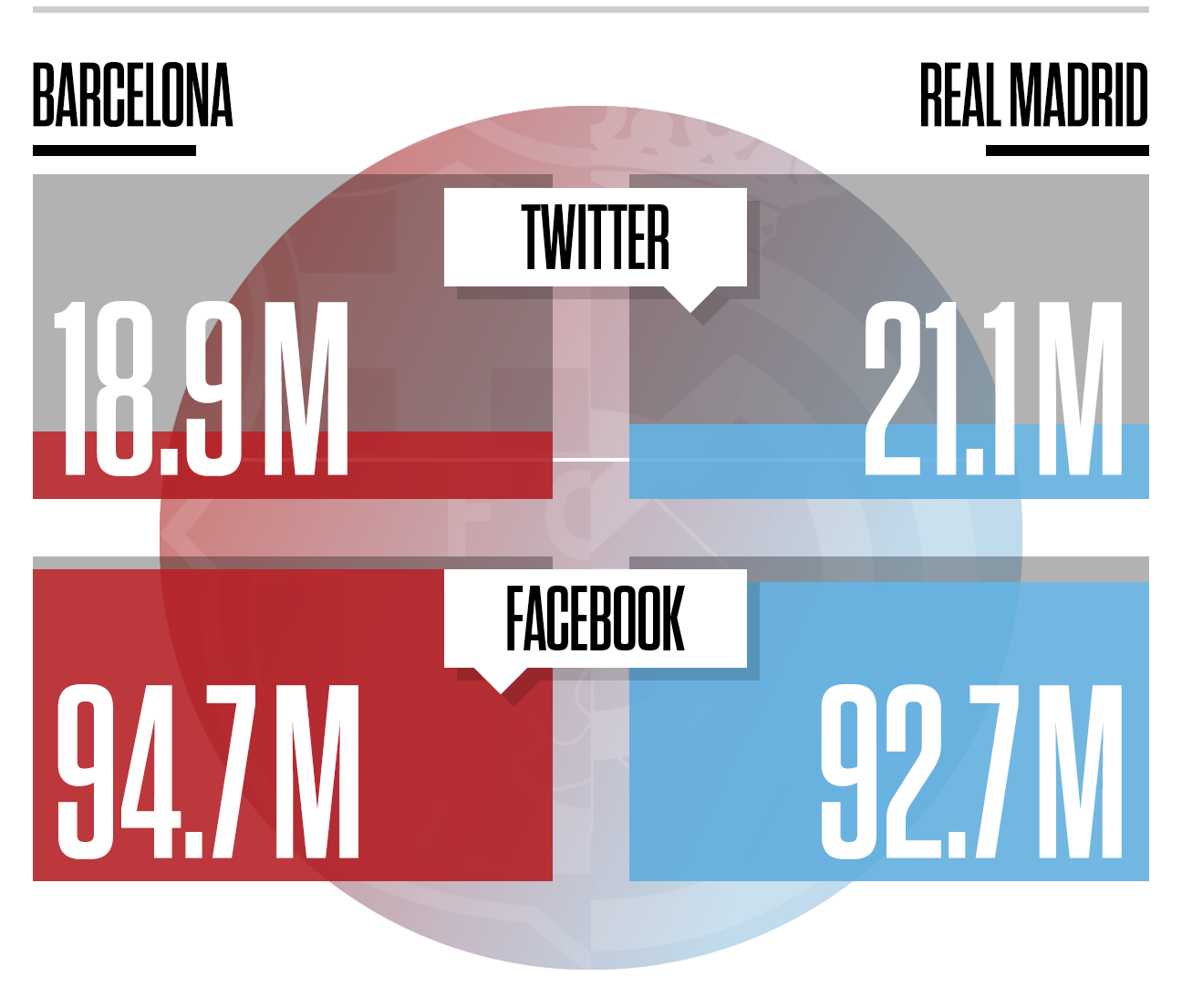 When it comes to silverware, the two clubs are on top of the world. In terms of La Liga and the European Cup, Real Madrid have 32 and 11 wins respectively — both competition records — while Barcelona have 24 and five.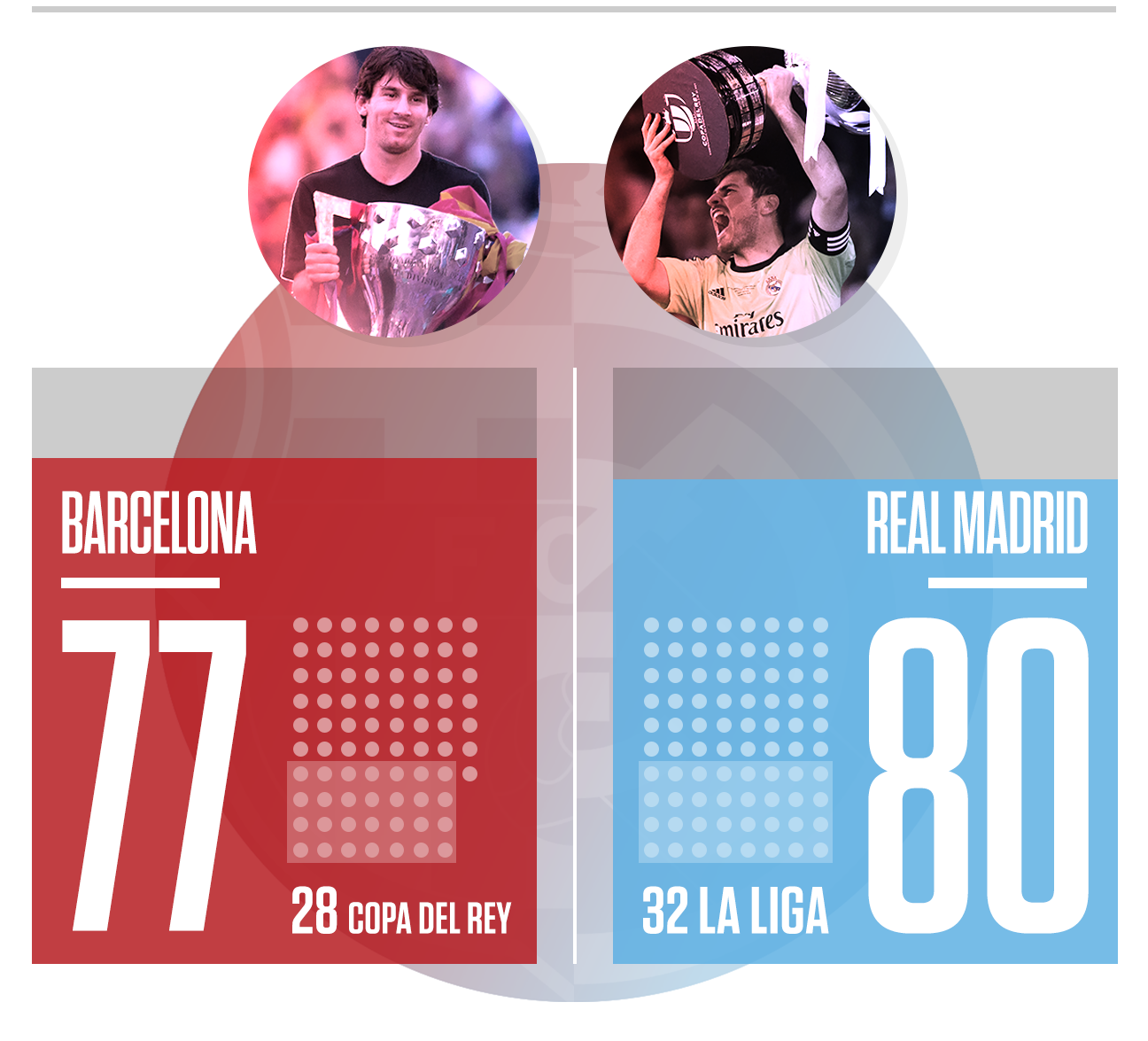 Both clubs have plans for expensive renovations to their home ground. Barcelona's Camp Nou will be ready for the 2020-21 season, the same year that Madrid's Bernabeu update will be completed.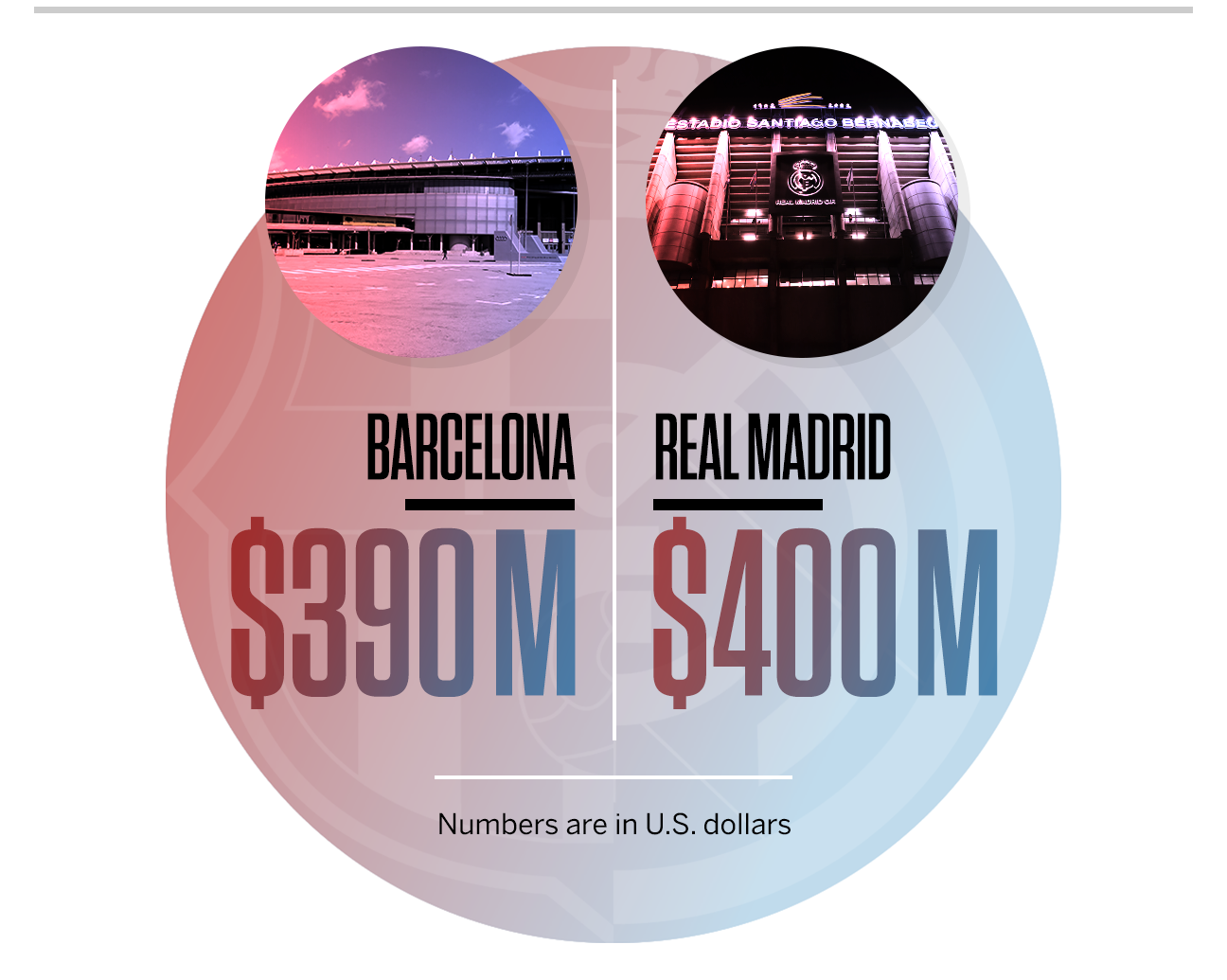 Source Credits: espn